Frequently asked questions
What size should I order?
---
All UNIQUE crafted creations will use your actual measurements to create/design. When ordering, there are 2 ways that can help (but not guaranteed) to determine your size. For example: if you are a 14/16 in the store, you may want to go up a size (16/18) to in your crafted piece. ***If you are larger in the mid-section and you want to be comfortable you may need to go up a size, as well. Custom creations sizing is very important since it will be made according to your measurements. ****If you are out of town or use measurements that have not been taken by Novel Unique, you will be solely responsible if the UNIQUE creation does not fit correctly. Therefore, we strongly suggest, that you make sure that your measurements are accurate. ***If your UNIQUE creation is not correct due to the owner you will be offered a refund or a correction of your UNIQUE creation. There is a sizing chart and model below for you to refer to if needed. FYI: Your natural waist is above your belly button. Where we wear our pants is below our belly button; know that these are TWO DIFFERENT MEASUREMENTS.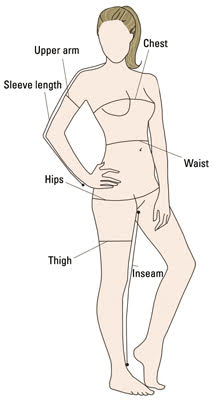 ---
I would like to place a custom order. How does that works?
---
Novel Unique ONLY takes 10 custom pieces a month. (Custom is a piece specifically measured for you.) Novel Unique reserves the right to decline any order, for whatever reason. UNIQUE/Custom pieces starts at $80.00 and up based upon material and size. Tops pricing may vary depending on fabric. A deposit of 50% is due for all order to be started (Non-Refundable) You must set a consultation, for your UNIQUE piece at leastfour weeks in advance, at which the deposit is due at this time. Be prepared to meet possibly more than twice to ensure the fit is to your satisfaction. A RUSH FEE will be added for any last minute UNIQUE/custom orders. NO MATERIAL will be ordered until payment is made. It takes 2 to 3 weeks after the material is received (and treated if needed) to Create, Fit, & Deliver.
---
What is your refund/exchange policy?
---
No refunds/Exchages only(WHY it is important to know your size for custom pieces) All UNIQUE creations are made long to accommodate tall clients, they can be cut down to fit your height. Please give an additional 7 days for your UNIQUE creation to be shipped or picked up IF altered. Any other alterations (if possible) will be an additional fee They can be picked up or shipped (for an additional fee) ***Items must be picked up within 45 days or monies will be lost and items will be re-sold unless communication has been made.***
---
What fabric/material is used by Novel Unique?
---
Novel Unique uses an array of material but most items are made from knit(stretchy) or material that gives. The use of zippers, buttons, or darts are seldomly used as her style of clothing in custom or already made pieces. Fabric is acquired from several different places and she does keep fabric on hand for clients to pick from for their UNIQUE creations. For Custom Made Orders: Please remember: Novel Unique makes the clothes and NOT the fabric, so sometimes finding the fabric for your perfect outfit may not be easy as you would think. Therefore, if that seems like it may be an issue, no deposit will be required until fabric is located and agree upon.
---
---